Things for children to do in Lyme Regis
Come rain or shine, there are loads of things that children will enjoy in Lyme Regis during the summer holidays and beyond. Here are a few to consider..
This traditional, family run attraction prides itself on offering visitors a fun and interactive insight into the sea creatures which inhabit our local waters. Situated at the end of the Cobb, their mission is to spark your imagination, arouse curiosity and give you an appreciation of the amazing marine life which can be found along the Jurassic coast.
This private museum is owned and run by palaeontologist Steve Davies and his wife Jenny. The museum contains a spectacular collection of the local Jurassic marine fossils. The collection grows each year and is now probably the best fossil collection on public display in SW England. It is a traditional museum using the beauty and majesty of more than 12,000 specimens to show people just how exciting and wonderful the world of fossils and dinosaurs really is.
The museum is situated in the heart of Lyme Regis, with stunning views of Lyme Bay and the Jurassic Coast. Displays showcase the amazing life story of Mary Anning and a world class fossil collection, as well as featuring the town's colourful history and its remarkable literary connections, from Jane Austen and John Fowles to Tracey Chevalier. A busy programme of Fossil Walks, Gallery Talks and Children's Activities runs throughout the year.
Deep Sea Mackeral Fishing
There are several boats that regularly set out with passengers from the harbour in search of mackerel or more exotic fish to provide an excellent day out for all the family in our beautiful coastal waters, with hours of fun and the excitement of the catch. All the equipment is provided plus tuition if needed. The Alexandra is happy to arrange a trip to suit your requirements. Just ask at Reception, and if you wish, chef will cook your catch for tea.
Rockpooling
The limestone and shale ledges on either side of Lyme Regis are regularly exposed by the low tides. Exploring the rockpools that they contain can reveal a wealth of marine life such as anemones, crabs, whelks and seaweeds and provide hours of fun for the whole family, whatever the weather.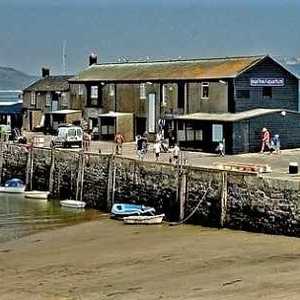 Posted on September 21st 2019