Our Head Chef, Chris Chatfield, is passionate about bringing the taste of the sea to your table.
When creating interesting and varied dishes, Chris uses the wealth of local producers in the West Country, and also adheres to our pledge of using only sustainable fish by closely following the Good Fish Guide issued by the Marine Conservation Society.
Alexandra Restaurant Menus
We have the perfect setting for breakfast, morning coffee, light lunch, afternoon tea or dinner. 
All menus are subject to change due to market influences and seasonality.
Dinner
We have two menus on offer, our daily changing 3-course dinner menu, or our 7-course surprise 'Tasting menu', where we hope you will totally relax, and allow yourself to be taken on a West Country food larder experience.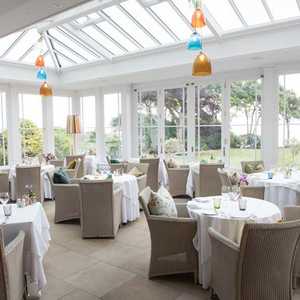 Lunch
Have lunch in the Orangery or perhaps on the terrace, gazing out to the cliffs of the Jurassic Coast. It really is a view to remember. We are open daily to enjoy locally sourced food in a relaxed and informal setting, perfect for family and friends.
A wonderful way to enjoy the gardens and views from our Orangery or the Terrace in the warmer months. With a variety of teas, a delicious selection of sandwiches, homemade scones and treats, afternoon tea is one of life's little luxuries.
Sunday Lunch
There's nothing better on a chilly winter Sunday than a traditional Sunday lunch with loved ones. Our most popular options are the pork belly and the beef loin, we have a vegetarian option and a pasta based dish too.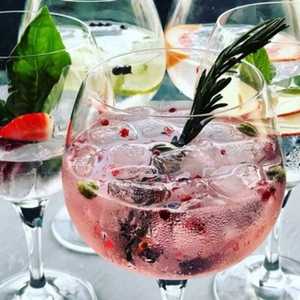 Bar
Our Bar is open from 11am until late. Choose from an extensive wine list, a bespoke cocktail menu and a selection of local and international spirits and mixers. Drinks and cocktails are also available on the Garden Terrace until late.
Private Dining
Birthday party, anniversary, lunch or private dinner, whatever you're celebrating, we can happily accommodate parties of any size in one of a number of room choices; from our romantic garden tower overlooking the sea to our 18th century private chapel.
Breakfast
The most important meal of the day! Enjoy our expansive views and calm atmosphere while you enjoy your favourite morning food and drink. Gluten free cereals, soya milk and lactose free milk available.
Surprise 7 Course Tasting Menu
Chris and his team then create the menu, planning how best to perfectly balance the ingredients, collating flavours and textures so that the elements of not only each dish are complimentary to one another, but that this runs throughout the seven courses.
Wine
An important part of the meal for many of us, pairing your food with the right accompaniment is an art form. We have strived to create a well-balanced selection for you to choose from.
How To Make Gourmet Turbot Burgers
With our chef Chris Chatfield
At the Alexandra Hotel we are passionate about food and believe that eating is one of life's greatest pleasures. We embrace the use of carefully selected local and seasonal quality foods to enable our chefs to create the most delicious dishes from our kitchens. Our local heritage as a historic fishing town results in an abundance of sensational local produce and we want to give all our guests a true taste of this in everything we serve.
When sourcing our food, we look for produce which stands out from the rest – from local farms to artisan producers from across the Westcountry, we are excited to share our food story with you. As a result of this our menus may be subject to change due to seasonal availability.